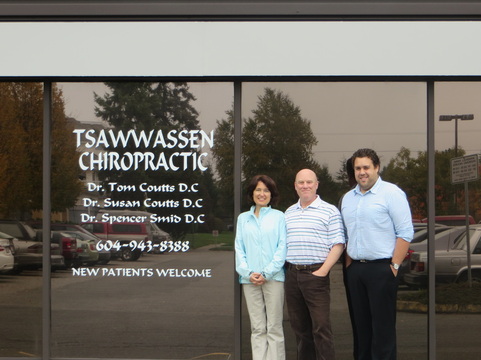 Dr. Susan Coutts: DC
Dr. Susan has enjoyed a successful career as a chiropractor in Tsawwassen since 1989. She has a family oriented practice treating people of all ages. Dr. Susan's treatments include full spine manipulation as well as soft tissue treatments using massage and tools such as the activator,, graston and the thumper to break down scar tissue and relieve muscle strains. Her ongoing studies include nutrition, whiplash, knee, hand, foot and shoulder injuries, rehabilitation, concussions and radiology. Dr, Susan Coutts has provided orthotic and foot care for over ten years, correcting such things as plantar fasciitis, heel spurs and metatarsalgia. In keeping with her holistic approach, Susan offers nutritional, exercise and postural advice to achieve optimal health for all her patients. Susan and her husband Tom currently live in Tsawwassen just a five minute bike ride from the clinic!
Dr. Spencer Smid: BKin DC
Dr. Smid was born and raised in South Delta where he graduated from Delta Secondary and went to study Kinesiology at UBC on a football scholarship. As a five year starter on the Thunderbirds he earned his bachelors of Human Kinetics. During his time on the field he received regular chiropractic care which allowed him to return from injuries sooner and play at a higher level. He decided to continue his education at the University of Western States in Portland Or, where he graduated with his Doctor of Chiropractic. On graduation he returned home and joined the practice of Drs Tom and Susan Coutts. His background in kinesiology and on the sports field allow Dr. Smid to treat and correct a wide array of muscloskeletal conditions. Dr. Smid lives in Ladner with his beautiful wife Michelle and adorable daughters Claire and Jane.

---